An intriguing town and historic city with a beautiful high street with pretty old buildings, quaint shops and boutiques, an impressive Cathedral and Castle, excellent train links, and even a noble past with Charles Dickens. Rochester was where Dickens life started and ended and the places that pop up in his books still sit amongst its characterful streets and buildings today.
Neighbouring Chatham, Gillingham, Strood and a number of outlying villages, make up the Medway Authority area. Rochester is a popular tourist destination: consistently one of the most-visited cities in the United Kingdom, the city's economy is heavily reliant upon tourism.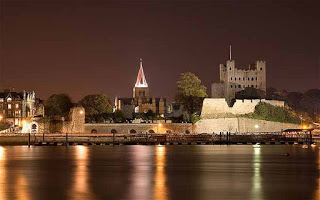 With a cathedral and castle at its heart, you will find wonderful places to visit in Rochester.Whether you are digging deep into Rochester's history and heritage or going shopping, relaxing and soaking up the atmosphere or enjoying the markets and festivals, Rochester offers you so much to see and do. It really does offer a huge variety of attractions and indoor and outdoor activities to suit all tastes and interests.
Rochester castle is a magnificent Norman statement of absolute power set in stone overlooking the town, dwarfing even the ancient cathedral. The Cathedral is the second oldest Cathedral in England, and it too has much to explore.
The Old Rochester Bridge was originally an old Roman Bridge that was replaced in the late 14th century after terminal damage by winter storms. This bridge was altered in the 1820s after concern of the river bed silting up. In the 1850s a new construction was erected of cast iron with three arches and a swing bridge. Between 1910 and 1914 the bridge was again reconstructed and the arches moved to their present position above the roadway to provide extra clearance for shipping.
Rochester is well known for its festivals including Sweeps and Dickensian Christmas festival; the latter bringing the streets alive with stalls, carol singers and lamp-lit parades.
The Sweeps festival dates back to the days when small boys were sent up the large chimneys of big houses to sweep them. It was a terrible and very unhealthy existence and thankfully was outlawed by the Climbing Boys' Act of 1868 and rightly so. As an annual treat, the sweeps were allowed a day off to go to Rochester. This would include a parade led through the town by a "Jack in the Green", a traditional British folk figure which harks back to pre-Christian times. There would have been games and perhaps some special food. The Festival died out in the early 1900's as there were no more Sweeps to take part but it was revived some years ago. Nowadays the visitor will find along weekend of folk music, public dance displays, morris dancing and the like.
Dickens is normally the first weekend of the December and another Rochester tradition. Packed with shopping stalls, Rochester becomes a feast of Victorian delights. There are lamp-lit parades, carol singing, Father Christmas to be met and even a guaranteed snowfall, framed by Rochester's fairytale cathedral and castle. You'll also see some familiar, fabled characters from Dickens' much-loved stories. Highlights include the Seven Poor Travellers Procession, the Grand Parade, a candlelit procession, the open air carol concert, and roaming street performers. Rochester's Dickensian Christmas has been held annually since 1988, which is fitting as Medway held such a special place in Charles Dickens' life and work. The writer spent five of his childhood years in Medway from 1817 to 1822. He returned for the last few years of his life, dying at Gads Hill in 1870.
Rochester's strong educational tradition stretches back to the seventh century. The private King's School (which is co-ed, ages three to 18) is the second oldest school in the world (after The King's School, down the road in Canterbury), and also the oldest choir school.
There are three local state grammar schools all of which are rated "outstanding" by Ofsted:
* Fort Pitt (girls, ages 11 to 18) in Fort Pitt Road just over the border in Chatham;
* Rochester Grammar (girls, ages 11 to 18, with boys in the sixth form); and
* Sir Joseph William's Mathematical (boys ages 11 to 18, with girls in the sixth form) – known locally as The Maths – in Maidstone Road.
Other private schools in Rochester:
* St Andrew's School (co-ed, ages three to 11) in Watts Avenue;
* Rochester Independent College (co-ed ages 11 to 18) in Star Hill which specialises in GCSE and A Level resits; and
* The Cedars (ages, three to 16) in Maidstone Road, a small Christian school.
Rochester also has the following primary schools:St Peter's in Holcombe Road; Delce Infants and Delce Juniors in Fleet Road and The Tideway; The Pilgrim School in Warwick Crescent; and Balfour Infants and Balfour Juniors in Pattens Lane and Balfour Road.
A knot of towns with a powerful history, looped along the tidal reaches of the River Medway proves the perfect no-nonsense mix of ancient and modern.
Email me 
here
 for any property questions you may have.
Rochester's property experts can be found using this 
link
.