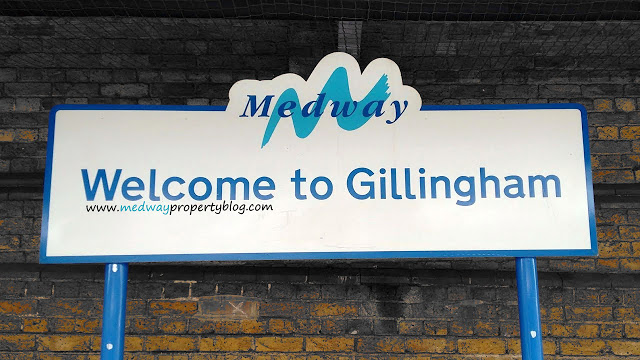 The Millennials were born between the mid 1980's and late 1990's thus making them between the age of around 22 to late 30's. They are the imaginative, artistic youngsters who grew up with the newest tech and computers and who are huge aficionados of music festivals, gourmet pizzas, emoji's, selfies and old school nostalgia. Also known as Generation Rent, many Millennials have discovered that renting is a good choice for their shelter and accommodation needs without the hassle that comes from buying a home. Nonetheless, that is not the only reason they don't buy property. When they should be concentrating on their profession, putting down roots and starting a family, Millennials are still going through the pressure and strain of student loan liabilities whilst, at the same time, finding it tough to pay rent.
The hot topic at the moment is the cost of renting, as both political parties have seen mileage in wooing these Millennial Generation Renters. The average rent in Gillingham is currently £950 per month making this a big-ticket item on the monthly budget. I was inquisitive to find out exactly how much Gillingham Millennials will spend on rent by the time they reach their mid 30's. The average age people leave home in the UK is 22; so looking at a Gillingham 22-year-old (or Millennial) who left home in 2005 then between 2005 and today that Gillingham Millennial will have shelled out £135,695 in rent.
It's no wonder local Millennials can't afford to buy a Gillingham home given their tremendous debt. This means younger Gillingham Millennials will probably carry on renting for the foreseeable future, simply because the prospect of buying a home is not yet achievable.. that is until you look more deeply at the numbers…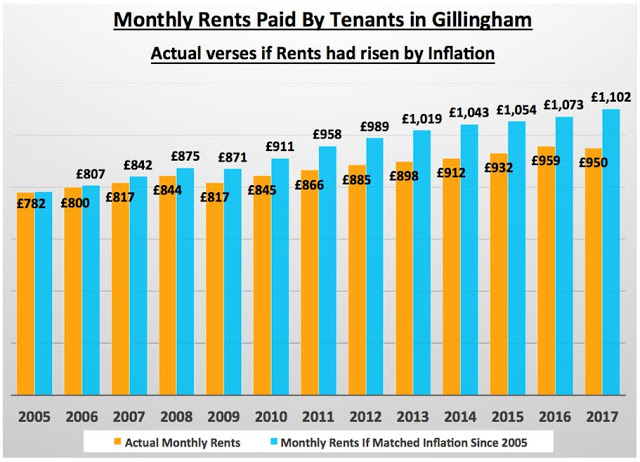 Looking at the chart above, the average rent o
f a Gillingham property in 2005 was £782 per month (pm)
… if it had risen by inflation, today, that would be £1,102 pm. As I have already mentioned in the article, today it only stands at
£950 per month. Looking over the last 12 years, adding up all the differences between what the average actual rent was compared to what it should have been if rent had gone up by inflation, the average Gillingham Millennial tenant would have paid £147,910.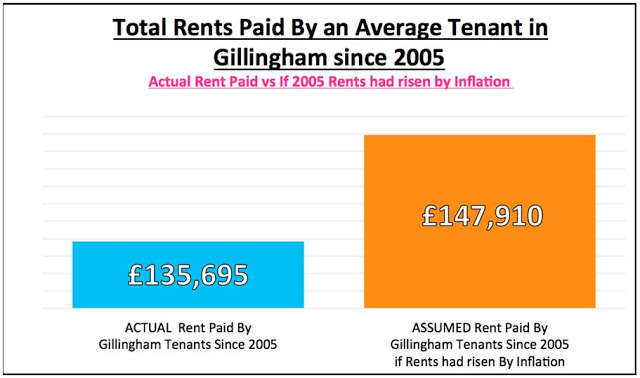 This means that an average 35-year-old Gillingham Millennial tenant, who has been renting since 2005, is better off by £12,215 when comparing the actual rent paid compared to what it would have been if it had risen by inflation. In a nutshell, tenants have done well due to the sub-inflation growth in rents.
In fact, if you recall I mentioned in an article a few weeks ago, the older Gillingham Millennials

are starting to use those savings and are gradually shifting towards home ownership. They are finally catching up with the British homeownership dream as Bank of Mum and Dad help with the deposit. Also, the scrapping of Stamp Duty from the Government starts to kick in together with the realisation that if the 5% mortgage deposit can be scrapped together (yes, 95% first time buyer mortgages have been available since 2009), it is still a lot cheaper to buy than rent, meaning this will unquestionably drive demand for Gillingham homes for sale – good news for Gillingham homeowners.
… and what does this mean for Gillingham landlords?
Well the vast majority of younger Millennials are still renters and I foresee this to be the case for at least the next ten to fifteen years.

Landlords will need to keep improving their properties to ensure they get the best tenants and they will see a much higher rent achieved. Millennials will pay top dollar for a top dollar property. It is important to do things correctly as making money won't be as easy as it has been over the last twenty years.  With a greater number of properties on the market .. comes greater choice. Don't buy the first thing you see, buy with your head as well as your heart … because as I promised a few weeks ago, the first rule of Buy To Let Investment ….. "You are not going to live in the property yourself"
One place for more information is my Medway Property Market blog. 
If you are a landlord or thinking of becoming one for the first time, and you want to read more articles like this about the Medway property market together with regular postings on what I consider the best buy to let deals in Medway, then it is well worth reading. You can also email me at spencer@docksidekent.com
If you are in the area feel free to pop into the office which is based at Station Road, Strood, Kent, ME2 4WQ