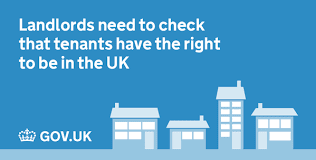 There has already been much said on the web about the recent implementation of the Right to Rent regulations but I wanted to post a simple, starters guide.
Basically all landlords must now check that ANY adult they rent to has the right to rent a property in the UK. There is a fine of £3000 if the correct checks are not carried out.
What does a landlord need to do though?
1. Landlords must meet the person they are renting to IN PERSON.
2. Landlords must take a copy of the tenants original ID and/or documents before they move in.
3. Landlords should check that the documents appear genuine - the government do not expect landlords to be experts in forged documents BUT you should look out for simple giveaways like dates that don't match, names spelt incorrectly or poor quality.
4. Landlords must keep copies of all documents for at least 12 months after the tenancy expires.
5. Landlords must follow up on right to rent documents that expire during the tenancy. In this case it is best practise to write to the tenant by email and/or post requesting a meeting to copy the original version of the newly valid right to rent document.
The governments own web site goes into precise detail of which documents are valid and can be found here:
right to rent full details
I have also complied a 4 minute video on the subject and that can be found here:
right to rent video
If you have any questions please email me
 here
Thanks
Spencer