It is not really unreasonable to suggest that the recent Volkswagen scandal has had a tangible effect on consumer's opinion of the German powerhouse's integrity. The financial markets have certainly been vocal and recently UBS analysts halved VW's target share price over the next 12 months.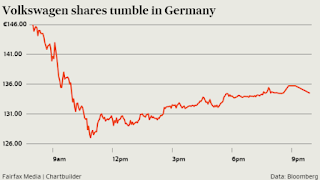 VW shares drop by almost 20 euros per share.
Ok, but what does this news have anything to do with Medway property? How could this possibly affect the value of a 2-bedroom house in Rochester, an apartment in Strood, or Gillingham or Chatham? Let me explain…
I attended a fund-raising event yesterday. In attendance were numerous high-net-worth clients and senior finance people. I was fortunate enough to be seated next to a middle-east fund manager. It transpired that several of his clients had lost money as a result of the inevitable nose-dive that VW share prices took. Fund managers don't like losing money (remember that their job is to MAKE their clients money) and their clients like losing money even less. As a result, millions and millions of pounds have been liquidated from these funds investment in VW and, yes you guessed it, being ploughed into……..property.
Now, granted, not all of these funds will be buying property in the Medway towns but you can bet that some of them will. Some of them will be buying property in surrounding areas. However, all of the money coming into the UK property market will increase further demand in a property market where supply is already low. The result? I predict further price increases in 2016.
If your current estate agent is not taking into account these external forces, I would suggest you may not be talking to the right people.
Feel free to contact me or my team for further advice.